Weather information and webcam

Today: In the afternoon more clouds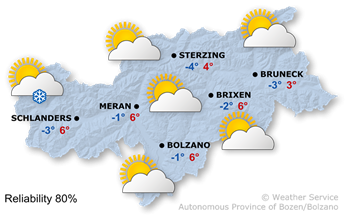 It clouds up again in the afternoon. Snow snow showers are expected in the night to Sunday, especially in the North. Top temperatures between 0° and 6°.
---
Tomorrow: Mostly sunny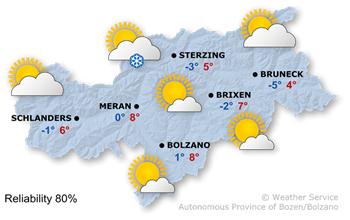 The last precipitation will soon come to an end on the alpine crest, the clouds will clear up and the sun will shine. High temperatures between 3° and 8°.
---
Next days Weather forecasts: Clouds and sun in the south, more changeable in the north
On Monday, it will rain intermittently in the north of South Tyrol, especially in the morning. The snow line will rise from 1200 to 1800 metres. Towards the south, it will remain mostly dry and it will be sunny at times. Similar on Tuesday: some rain on the border with Austria, friendlier in the south. Wednesday will be cloudy with light rain at times. Thursday weather improvement with sunshine.